Of all the mainland Southeast Asian nations, Cambodia is perhaps the most neglected from a tourist's point of view. The country is arguably known worldwide for two things: the magnificent Angkor Wat complex and two of the legacies of the Khmer Rouge -- land mines and security issues.
Together these facets have worked historically to both attract and repel foreign tourists, resulting in a highly developed tourist infrastructure surrounding Siem Reap, the closest town to the Angkor Wat complex, while the rest of the country, from a tourism point of view, has developed at a far slower pace -- if at all.
The end result of this is that many visitors to Cambodia come primarily to see Angkor Wat and leave without seeing anything else. This is a missed opportunity as Cambodia offers a wealth of destinations aside from Angkor Wat.
The capital, Phnom Penh, located roughly midway between Angkor Wat and the Vietnamese border, is beautiful in a dilapidated kind of way and has developed into a decidedly cosmopolitan city with excellent eating and drinking available along with some great value and very unique places to stay.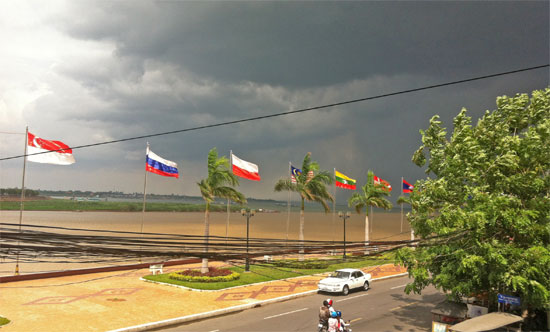 You packed an umbrella right?
Some historically important places to visit should be on your itinerary in Phnom Penh, such as Tuol Sleng, the Killing Fields and the National Museum, but it's not all genocide tourism here. Boat cruises, cooking schools, an animal refuge, wet markets and the ever-scenic riverside boardwalk are all easy crowd-pleasers.
Another bustling city that attracts a fraction of the visitors it deserves, Battambangin the west of the country is both an attractive riverside city in its own right but also a convenient hub for exploring the hinterland with its temples, Khmer ruins and the bamboo train. Easily reached by bus or share taxi, you can also approach it by boat from Siem Reap, crossing the Tonle Sap, in what can be an incredibly beautiful and memorable trip.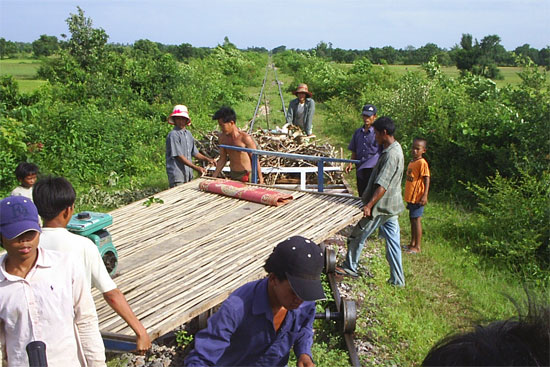 Bamboo train outside Battambang.
While nearby Thailand may be better known for its island scene, the half-dozen or so islands off the Cambodian south coast are where it is at when it comes to the "new" islands of the region. Pristine beaches and crystal clear waters really deliver the goods. The coastal and riverside towns of Sihanoukville, Kampot and Kep meanwhile provide a relaxing small town vibe that may enthral those looking for a lower-key Cambodia.
Off the coast, Cambodia has a developing eco-ish sustainable tourism scene, most famously centred around the Chipat area midway between Phnom Penh and Battambang. Here you can experience village life and grow to better appreciate what remains of Cambodia's once-vast forests.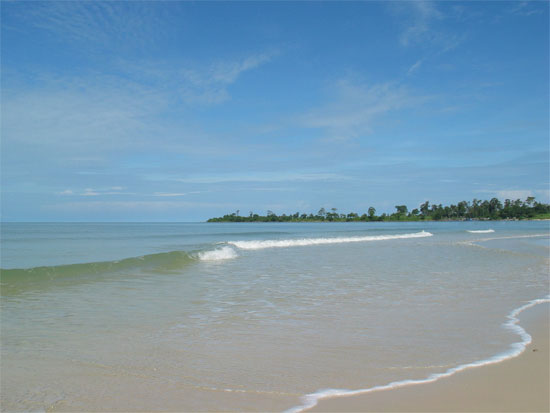 No Photoshop required.
Heading north from the capital towards the border with Laos, the riverside towns ofKratie and Stung Treng each offer small town charm and the opportunity (should you be in luck) to see the critically endangered Irrawaddy dolphins.
Further east again takes you to romantically named Mondulkiri and Rattanakiri provinces. Once considered Cambodia's "Wild East" these areas have been (and continue to be) ravaged environmentally, but there are highlights that remain; Banlung in the north can be used as a base for trekking in Virachey National Parkand visiting nearby waterfalls, while Sen Monorom, in a similar fashion to Chipat, has a developing sustainable tourism scene.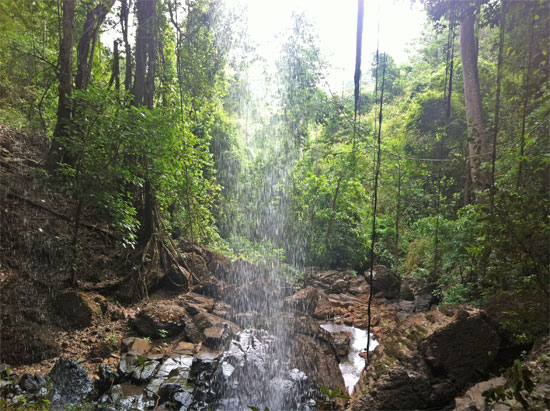 A waterfall all of your own.
Then of course there is Angkor Wat. Yes, it is something you must see during your lifetime; but do bear in mind that there are actually dozens upon dozens of monuments scattered not just around Siem Reap but across much of the country. Siem Reap town, with its ever-growing supply of hotels, fabulous eating and plentiful drinking has developed into a destination in its own right.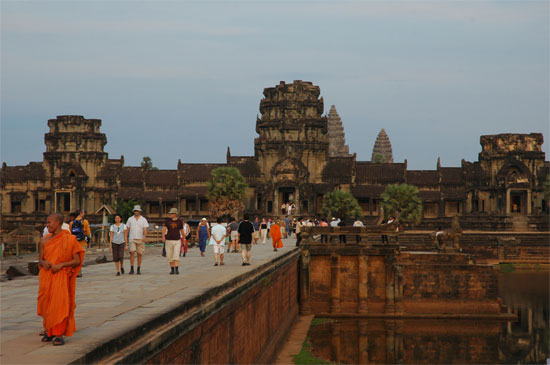 The crown jewel of Cambodian tourism.
So with so much to see, why do people see so little?
Cambodia is a very poor country and the poverty and persistent begging, especially by children, can be distressing to some. Crime, especially snatch and grabs, are a stubborn problem; scams also continue to be a problem. But we'd say we've always felt relatively safe in Phnom Penh and its reputation among some as a sleazy destination is not at all deserved -- it's no worse than Bangkok or Saigon.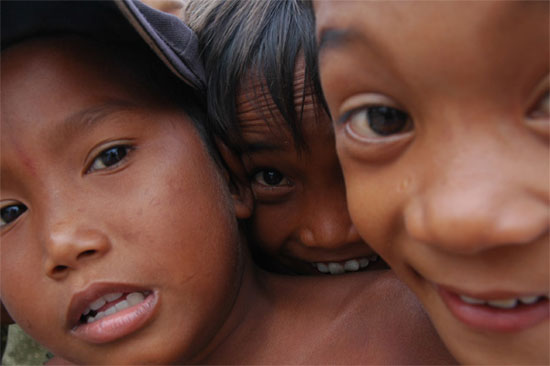 Kids working the crowd on the Neak Long ferry.

Cambodian food has its own distinct appeal, but for now it simply isn't on the same page when compared to the cuisines of neighbouring Vietnam and Thailand. That's not to say you shouldn't try to get a handle on it though, and there are plenty of opportunities to do so.
While Cambodia is generally slightly cheaper than both Vietnam and Thailand but more expensive than Laos, it remains excellent value for money.
How long does Cambodia deserve?
The standard tourist visa for Cambodia is 30 days. So we'd say that is a good starting point.
In a month you could visit Angkor, Battambang, a couple of islands via Sihanoukville and then dash along the coast to Kep and Kampot before striking north to Phnom Penh, and continuing north to Laos via Kratie and Stung Treng.
With two weeks you could easily see Siem Reap, an island, a bit of coast and the capital before moving on.
One week, Angkor plus Phnom Penh or an island.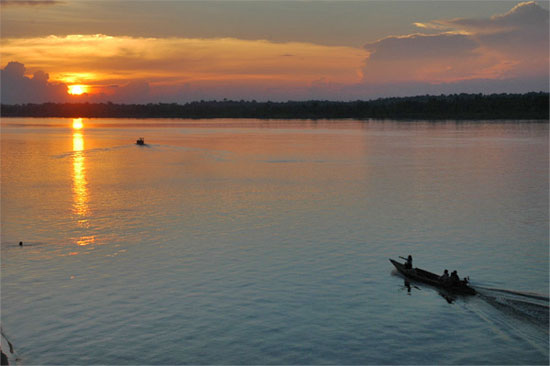 Just another Stung Treng sunset.
Cambodia has land border crossings with all three of its neighbours (Laos, Thailand and Vietnam) and the main trunk routes are mostly sealed, of a reasonable standard and trafficked by frequent public transport. This makes it ideal for thoseplanning an overland loop through Southeast Asia so if you're planning extensive travel, Cambodia should absolutely be a part of it -- just don't make the mistake of hightailing it straight to Siem Reap and Angkor Wat.